Translation, Translation, Translation
Over the last 14 days, we have had two scientific meetings taking place right here on the Wellcome Genome Campus, the Translational Bioinformatics conference and the Translational Target Validation symposium.
What did they have in common besides the same venue?
The clue is in the title of the meetings: the word translational.
But what does translational mean? According to EUSTM, the European Society for Translational Medicine, translational (research) can be defined by the backbone "from bench, to bedside, to community".
What were some of the highlights of those two meetings on our lovely campus? And is genomics relevant in translational medicine?
Human genome comes of age
The finished version of the human genome is 13 years old, and one of the desired effects of having its sequence was to facilitate the understanding of health and disease, and increase the likelihood of therapeutic intervention.
We now have moved from that one genome sequence to a thousand (1000 Genomes Project), tens of thousands (UK10K) and hundreds of thousands (100,000 Genomes Project), as I like to refer to them as the 1K, 10K and 100K genome marathons.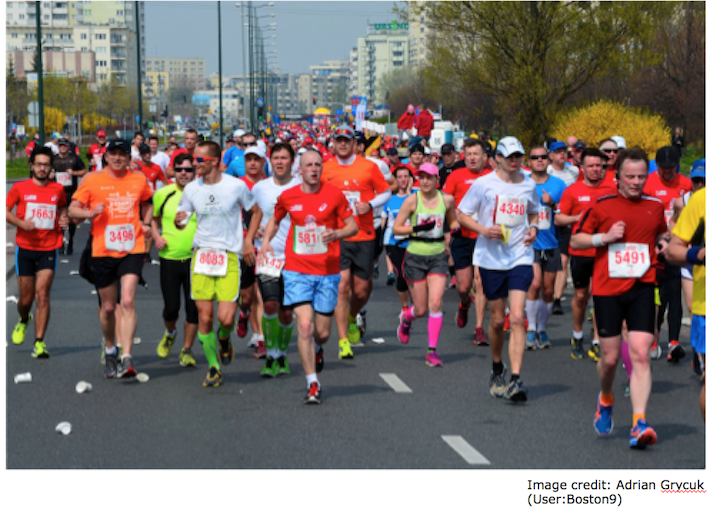 Some of the main topics in those two meetings, especially the Translational Bioinformatics, were on the actions needed to be in place so that scientists, clinicians and patients can benefit from the deluge of biomedical and genomic data. How we store, analyse and interpret this data is not a trivial matter as stressed by Ewan Birney, one of the co-directors of EMBL-EBI.
Let me give you a few details on these meetings, including some of my highlights.
Translational Bioinformatics
This meeting was funded and organised by the Wellcome Genome Campus Advanced Courses and Scientific Conferences.
It had 106 delegates (from Singapore to United States and many other countries in-between), and 40 abstracts. These were the three talks that struck me the most:


Shortening Diagnostic Odysseys - Improving Outcomes
By Nick Lench, Congenica UK
Nick started his talk with the figure of five years. It is how long it takes for a disease to be diagnosed in the clinic setting. This turnaround is far too long for the patient and their families, who are left in limbo, causing both psychological and financial burden to all parties involved.
In this day and age, it's much easier, cheaper and quicker to sequence a human genome and the 26-hour diagnostic genome suggests that speed could heal.
Congenica has developed Sapientia (a software for the interpretation of genetic variants in clinical reports) and together with Great Ormond Street Hospital have shortened the turnaround from five years to five days. Not quite the record-breaking 26-hour diagnostic genome, but indeed more realistic and attainable in the clinic.
A quicker turnaround could open up avenues for quicker treatment, better prognosis and support for parents with an affected child, so that they can make a decision on possible future pregnancies.


Rare Connect + PhenoTips: integrating a patient-facing portal into the daily practice of genomic medicine
By Michael Brudno, University of Toronto, Canada
Michael started off by saying that although "hospitals are a pre-funded centre with millions of human genomes" (a notion put forward earlier on the day by Ewan Birney), the data tends to be in a dingy basement, often recorded in a non-electronic format, in free text or using checkbox documents.
Michael advocated that "clinicians should be good at phenotyping, not typing", and went on to introduce PhenoTips, a tool for phenotype collection and analyses, with many features from the standardised terms (using the Human Phenotype Ontology, HPO) to more interactive ones such as the pedigree editor. How cool is this?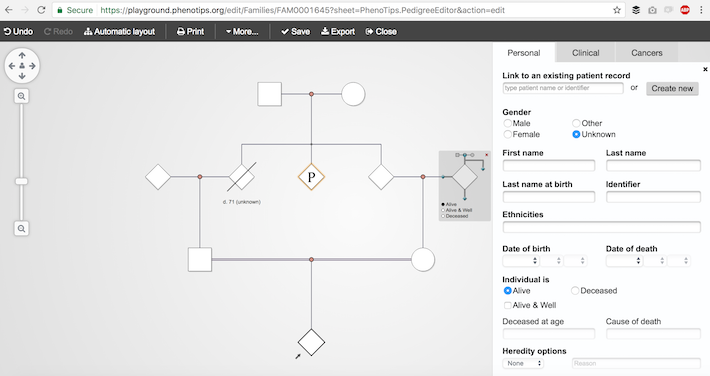 He also covered PhenomeCentral, a privacy-aware portal for matchmaking phenotype, mutation, and cases. It's been out for the last three years and so far there have been > 25K installations, 2.6K users, 30K patients/records from > 10 hospitals, including our local Addenbrookes Cambridge University Hospital.


The needs of the healthcare system (Panel discussion)
Clare Turnbull (Genomics England, UK), Jeff Barrett (Open Targets, UK), Helen Firth (Cambridge University Hospitals Trust, UK), and André Blavier (Alamut, France) made up this panel and shared their wishes and challenges in translational research. These are some of them:
better IT infrastructure and support (no more sticky keys on a keyboard please),
manage patients' expectations (our knowledge is not limitless),
better education of members of the public,
getting hold of true negatives from translational programmes including the drugs that failed,
better access to clinical trials data.
For the buzz of conversation at the Translational Bioinformatics meeting, check the TrBioinf17 tweet feed for more.


Translational Target Validation symposium
This meeting was organised by Charles River Laboratories. Registration was complimentary and Charles River donated £25 to Cancer Research UK for each registration and attendee, 77 of them in total.
My top highlight was the story of Tagrisso (Osimertinib) by Jonathan Orme (AstraZeneca).
Jonathan walked us through the journey of discovery of Tagrisso: it took (only) 6.5 years for approval. What drove its success? According to Jonathan, the following were the key aspects of the drug/project:
specific chemistry,
a clinical biology platform,
interdisciplinary team work.
If you were you at these conferences as well, why not share your highlights with us via email, Twitter, Facebook or LinkedIn?