Open Targets Platform: release 19.09 is out
We've just released the latest update of the Open Targets Platform, release 19.09.
In addition to more target-disease associations, almost 30,000 extra associations when compared to release 19.06, these are the highlights:
New target enabling packages
New chemical probes
New version of ElasticSearch
Head to release notes or use the REST-API stats endpoint for a breakdown of the latest stats per data type and data source.
Target enabling packages
TEPs are "toolkits" with information on structures, assays, proteins or chemical starting points available for novel targets with genetic validation. We now have six targets with brand new TEPs, including ANO10 (aka TMEM16K).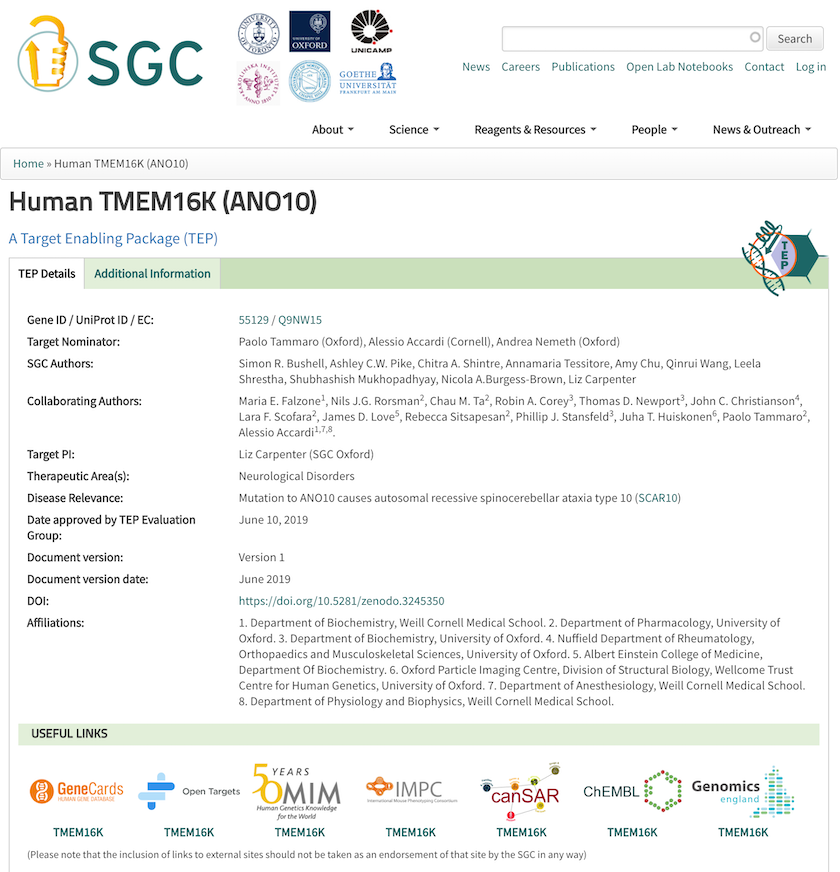 There is strong genetic evidence for ANO10 in Adult-onset autosomal recessive cerebellar ataxia but no drugs that target this protein have been developed yet. You can now characterise the biochemical function of this protein with the new human TMEM16K (ANO10) TEP from the SGC.
These are the remaining targets with new TEPs:
Head to the SGC website or check Open access target validation is a more efficient way to accelerate drug discovery to learn more about target enabling packages.
Chemical probes
We have three new probes from the SGC and seven new probes from Donated Chemical Probes.
Chemical probes are small molecules for the modulation of target properties, and these some of the new probes in release 19.09:
SGC-iMLLT, potent and selective inhibitor of YEATS proteins e.g. MLLT1
UNC6934, antagonist that disrupts the interaction of the PWWP1 domain in target NSD2 with H3K36me2 nucleosomes in human bone osteosarcoma epithelial cells
SGC6870, cell-active inhibitor of PRMT6
A-1596586, which helps the CFTR protein to fold properly and be trafficked to the cell surface
Looking into probing a target? Check our special blog post on Chemical Probes.
New version of Elasticsearch
We have updated our storage backend to Elasticsearch 7.2.
For the Elasticsearch aficionados, you will be pleased to know we have now updated to Elasticsearch 7.2. When downloading our data from release 19.09 onwards, please use this version of ES.
We strongly encourage users to work on the latest Open Targets Platform data, which contains the most up-to-date target-disease associations, the latest evidence from different data sources and new target and disease annotations.
If you do need to work on files that are prior to release 19.09 make sure you use Elasticsearch 5.6.13.
A new Elasticsearch would not mean a lot for most of our users; so we will stop here. But if you want to know how this impacts the user experience of the Open Targets Platform UI, please email us.
Be part of Open Targets
Join the Open Targets community on Facebook, LinkedIn, YouTube and Twitter to keep up to date with new data, videos, publications and job openings at Open Targets.
And on the theme of jobs, we currently have two openings at EMBL-EBI and the Wellcome Sanger Institute:
Looking forward to your application!