Open Targets Platform: release 18.06 is out
Our release 18.06 of the Open Targets Platform is out.
| | | | |
| --- | --- | --- | --- |
| Targets | Diseases | Evidence | Associations |
| 21,060 | 10,086 | 6,257,545 | 2,407,593 |
More evidence
One of the things we do best is to associate (and score) drug targets with diseases (and phenotypes) based on publicly available data sources.
In this new release, we have seen an increase in the number of evidence. The Genomics England PanelAPP for example now provides 47% more evidence than in our previous release (14,425 versus 9,692).
But what does more evidence mean? It means we can further support previous associations and better still, it means we can make novel connections between targets and diseases. The evidence for SERPING1 in Immunodeficiency due to an early component of complement deficiency is a perfect example for a brand new association, which is by evidence from the Genomics England PanelAPP.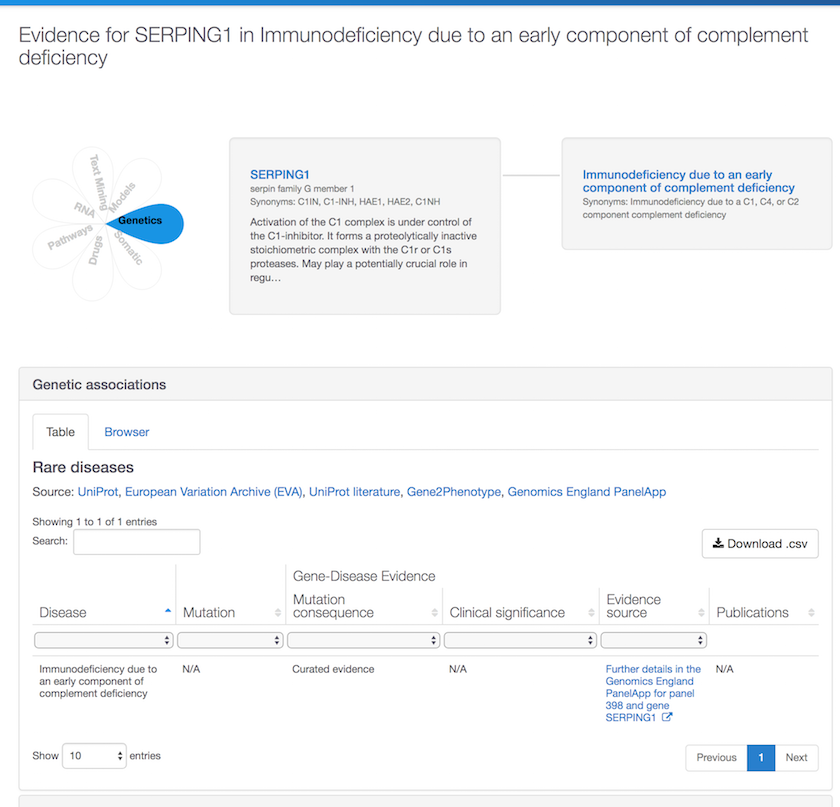 Head to our release notes for details on the numbers of evidence coming from all our data sources.
Chemical probes
Chemical probes are powerful research reagents that enable preclinical target validation in drug development projects. They are potent, selective and cell-permeable modulators of protein function that can be easily applied to different assay systems, including primary cell culture, tissues and in vivo models.
We now incorporate details of 182 unique high-quality chemical probes from several initiatives for 187 different targets: the Structural Genomics Consortium (SGC), the Chemical Probes Portal and Open Science Probes. This is the breakdown from each initiative:
Number of chemical probes
Number of targets
SGC Chemical Probes
56
56
Chemical Probes Portal
125
137
Open Science Probes
30
39
Each initiative provides detailed characterisation of freely accessible chemical probes and, where available, suggestions for inactive analogs of the probes for use as negative controls are made. Both SGC Chemical Probes and Open Science Probes include probes that meet the following criteria:
in vitro potency of less than 100 nM
greater than 30-fold selective versus other protein subfamilies
significant on-target effects in cells at less then 1 μM
The Chemical Probes Portal uses a star rating system for probes:
4 stars: the probe is the recommended probe for a target
3 stars: the probe is the best available probe for a target
Stay tuned for an upcoming blog post on chemical probes. In the meantime, why not browse the Open Targets Platform to get the chemical probes for BRPF1, for example, or head to the The promise and peril of chemical probes and the Science Forum: Donated chemical probes for open science articles for more details?

Can you spot the difference(s)?
We summarise and rank target-disease associations with a table heatmap, where the different shades of blue represent our scores.
Following usability sessions with our users, we have made some minor but impactful changes on the associations table. Compare and contrast the images below and see if you spot the difference(s).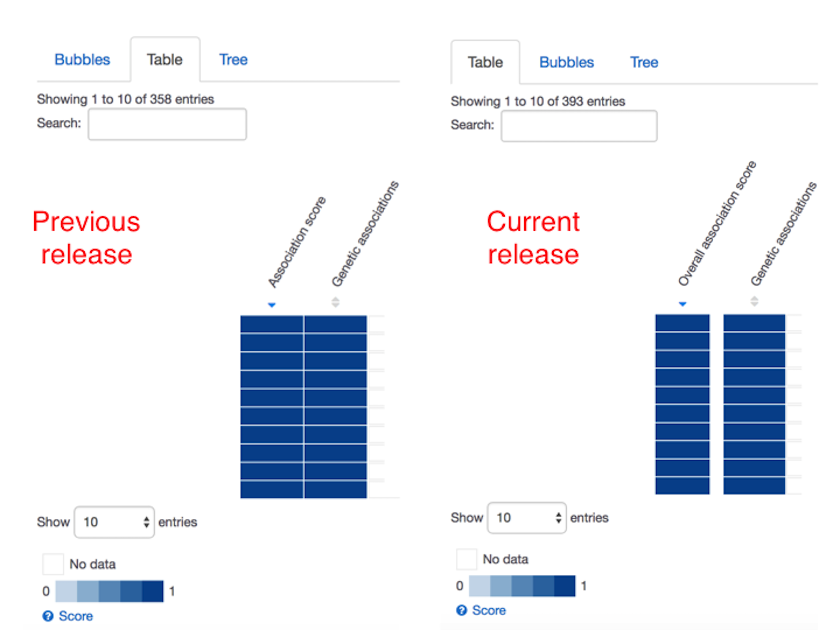 ASHG 2018, here we come
Robert Plenge, vice president of Translational Development, Research and Early Development at Celgene, has hinted on the new Open Targets tool elsewhere on this world wide web. We will refrain from saying anything more at this stage; it will all be revealed at the American Society of Human Genetics (ASHG) conference in San Diego in a few months' time.
If you want to be the first to see what the fuss is all about, sign up to our interactive invited workshop. Spaces are limited; so sign up early to avoid disappointment.
New videos
Have you wondered if your target of interest is similar to other targets in the human druggable genome?
We have a new video to answer this exact question: "Are there other genes similar to my drug target?". The similarity here is based on the set of common diseases between the targets.
We also have a new recording of our latest webinar, a double bill with Maria Levechenko from Europe PMC. This joint webinar was a follow up on our Q&A with Maria. If you missed the live webinar, head to the EMBL-EBI YouTube channel to watch the recording.
New privacy notices
GDPR. You may have seen the acronym before. No, it is not an official gene symbol; at least not yet.
GDPR stands for General Data Protection Regulation; and it has taken data protection and privacy to another level.
If you want to know how GDPR affects Open Targets and most importantly how it affects you, check our new privacy notices on:
Please take a moment to read the above and get in touch for further discussion.
Last but not least
We are delighted to welcome Elaine McAuley to our Open Targets Core team. Elaine will oversee the intricacies of our Platform pipeline and help to manage the data challenges ahead of us.
On this note, if you like challenges and are looking for a new start, why not apply for our Bioinformatician job opening? We are a great bunch of people working in a friendly and agile research and production environment.