The Beta version of the next-generation Open Targets Platform has been released!
For the past couple of years, we have been working on a new, more powerful version of the Open Targets Platform. We are thrilled to share the new Platform beta version that reinvents the best of the old platform but using a redesigned experience and improved usability.
The new Platform is available at beta.targetvalidation.org — please take a look and let us know what you think.
The beta version makes the most of the data from our recent 21.02 release and you can also interrogate the data using our brand new GraphQL API.
In particular, this version features:
Redesigned evidence pages
Updated drug profile pages
More complete disease profile pages
A complete redesign of the evidence pages
We have overhauled the evidence pages, reexamining the detail each data source provides to extract and display all the information which could potentially influence decision-making. Each data source now has its own summary widget and detail view, so you can quickly interrogate your therapeutic hypothesis further.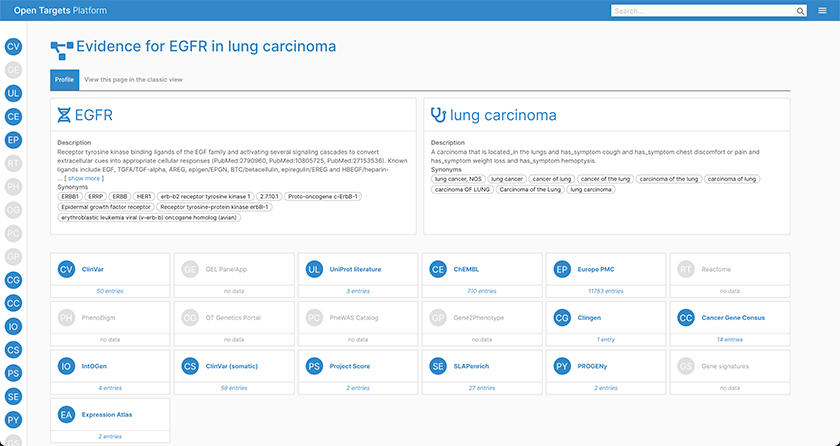 Evidence page for EGFR in lung carcinoma; using the widgets, you can quickly see which data sources have evidence for EGFR involvement in lung carcinoma.
With the added detail about each piece of evidence within a datasource, users can now easily evaluate the reliability of the information, and intuitively navigate to find out more about the underlying data.
For example, intOGen data now displays which methods were used to predict cancer driver genes from the different tumor cohort sequencing projects. Additionally, evidence from ClinVar, ClinGen, and Genomics England now includes the confidence levels supporting the association of the target with the phenotype identified by the review policy.


Evidence from the Genomics England PanelAPP for the association of CFTR with cystic fibrosis.
New links in the drug profile pages
We have updated profile pages for drugs. In particular, adverse events are now mapped to MedDRA terms, and linked directly to the dictionary entry. Similarly, we have added links to the reference sources for drug indications.
Behind the scenes, we have also streamlined the FDA pipeline, and restructured the drug index to make it more flexible and easier to expand in private instances.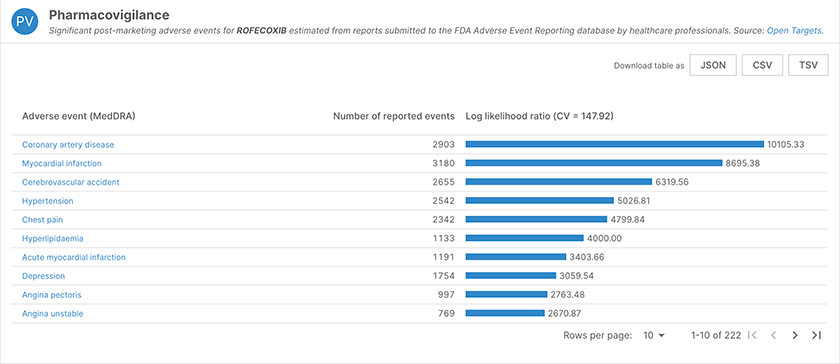 In the pharmacovigilance data for Refecoxib (chEMBL122), adverse events now link out to the corresponding MedDRA term.
New data in the disease profile pages
The beta version of the Platform now includes new phenotypes data which provides insights into the clinical signs and symptoms for a given disease. Linked phenotypes can act as a proxy in order to provide additional insights on potentially relevant targets for the disease of interest.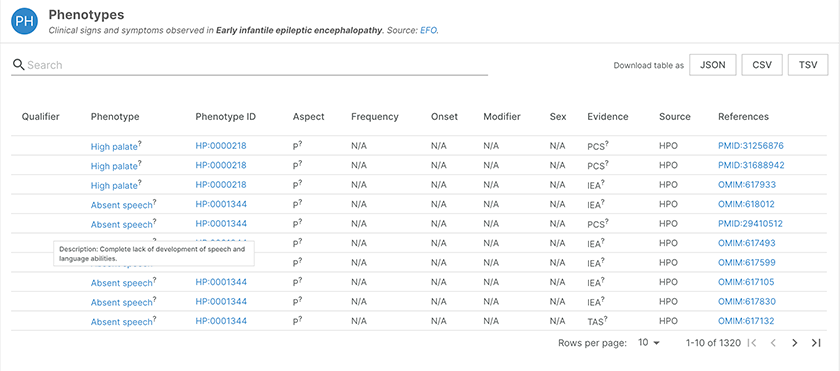 The profile page for early infantile epileptic encephalopathy now features up-to-date phenotype data.
What do you think of the changes we have made? Are there any other features you would like to see? Let us know by writing to outreach@opentargets.org or completing the pop-up survey at beta.targetvalidation.org.


More on this topic
More on this topic