From antibody to zinc finger: an A-Z of Open Targets
OpenTargets or Open Targets? Target validation or target identification? Celiac disease or coeliac disease? As users discover our resources, take a closer look at the lexicon of terms that matter to us.
New year, new term in our A-Z collection of blog posts. January 2019 is time for a lexicon starting with D.
Diseases
From Old French "des" (expressing reversal) + "aise" (ease) = "desaise"; meaning 'lack of ease'.
In Open Targets we are interested in diseases where evidence can be obtained on likely human targets, i.e. proteins and other molecules that could be modulated by a drug. In our latest release, Open Targets release 18.12, we have 10,053 diseases (and some phenotypes too), including:
Cancers (both familial and otherwise)
Infectious (transmissible) diseases
Diseases with a genetic component (both Mendelian and common diseases)
Diseases are one of the tenets of Open Targets and before we decide which diseases to incorporate into our pipeline, we need to make sure they are annotated, classified and standardised following strict rules, usually laid out by ontologies.
We describe our diseases following a modified version of the Experimental Factor Ontology (or EFO) that is mapped to other ontologies, such as human phenotype ontology, mammalian phenotype ontology, Orphanet, and also mapped to OMIM, ICD and SNOMED, for example.
You say "coeliac disease", I say "celiac disease", and Open Targets understands both, as these different spellings represent some of the synonyms that are all aggregated and captured under a unique ID. In this example, EFO_0001060.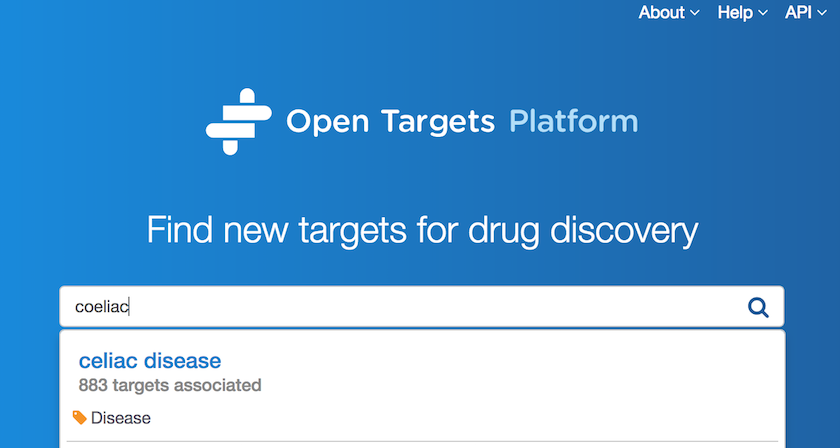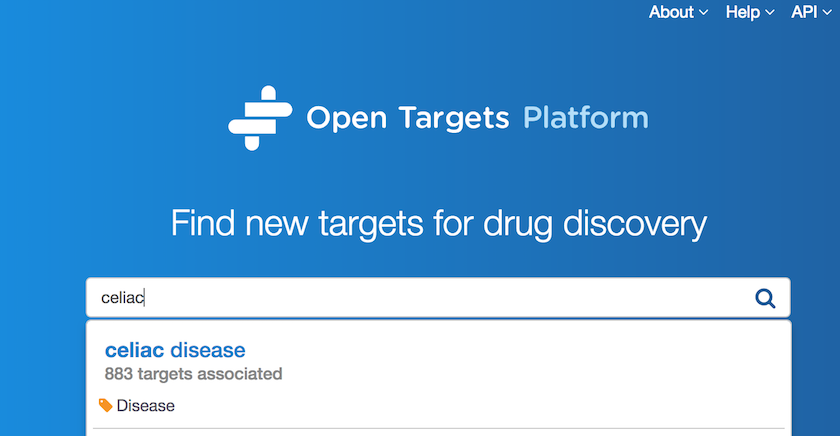 Note: If you explore our data via the Open Targets Platform graphical user interface (as in the images above), you can search for either the human readable disease name (e.g. celiac disease) or its standard ontology term (e.g. EFO_0001060). If you rather access our data programmatically via our Open Targets REST-API, you ought to use the disease ID.
Once we integrate the evidence provided by our data sources, we can then use these to associate targets with diseases to aid drug target identification.
Why not head to our Open Targets Platform now to explore all targets associated with celiac disease? Or perhaps check our profile page for celiac disease where you will find other disease synonyms and useful disease annotations such as:
Similar diseases (based on targets in common)
Phenotypes
Drugs
Bibliography
Classification
Want to know when we have new diseases in our Open Targets Platform? Sign up to our Open Targets newsletter and get our news delivered to your mailbox every month.
Subscribe to Open Targets Blog
Get the latest posts delivered right to your inbox